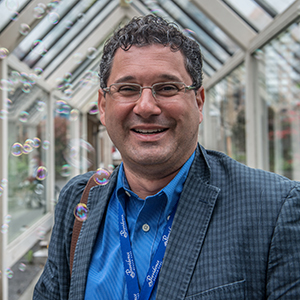 Dr. Christopher E. De Bono, PhD, MDiv, is currently the Executive Director of Mission, Values and Spiritual Care at Unity Health Toronto.  In a dual role, Christopher also serves as Executive Director Mission Integration for the Catholic Health Sponsors of Ontario.
Christopher is a highly regarded Catholic senior leader, ethicist and practical theologian with more than 20 years' experience in progressive and strategic health-care roles in secular and Catholic sponsored health-care in both British Columbia and Ontario.
Christopher's passion is to advance the integration of mission, vision and values, in Catholic health care's planning and delivery.  A change agent in Catholic identity and a firm believer in social justice and the Common Good, Christopher advances the legacy of the Sisters who founded Catholic Health care in Canada centuries ago.
Prior to joining Unity Health in November 2021, Christopher was with Providence Health Care, a Catholic health-care network in British Columbia, where he held a series of roles including VP of Mission, Ethics and Spirituality, VP Mission, People and Ethics, and Executive Sponsor for Indigenous Wellness and Reconciliation.  Before joining Providence in 2016, Christopher held a number of progressive roles in Ontario, including as a clinical ethicist at Unity Health's Centre for Clinical Ethics.
Christopher holds a PhD in Practical Theology, a post-doctorate in Catholic Bioethics through the Centre for Clinical Ethics, and a Master of Divinity.  Christopher is also certified as a specialist in spiritual care through the Canadian Association of Spiritual Care.
*Christopher is grateful to be able to live, work and play on this land which for thousands of years it has been the traditional land of the Huron-Wendat, the Seneca, and the Mississaugas of the Credit.  Today, this meeting place is still home to many Indigenous people from across Turtle Island.